Signage Planning & Design, Way Finding Systems
Signage Planning and Design
Signage System Planning and Design is critically important for any successful Identity Program. We understand all forms of signage and our experience is unmatched, we start with examining the signage requirments and analyse traffic flow patterns of all spaces and environments. Our Design Solutions work within a system and comply with any new Identity requirements and specifications.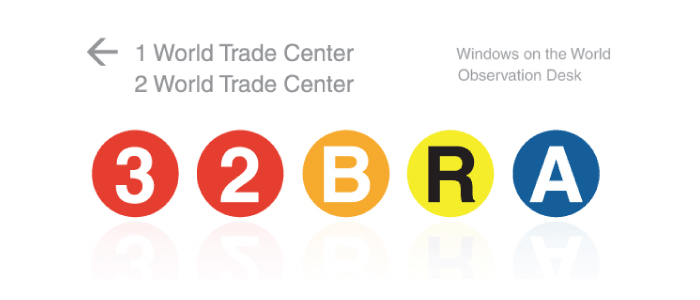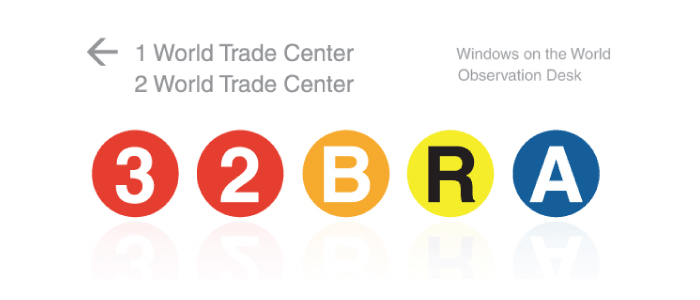 Way Finding Systems
We were selected as the primary design team in the planning and implemenation of the most important and successful design project in graphic design history.
The Way Finding System implemented in the stairways of the World Trade Center buildings. From the top of twin towers to the lowest level of the sub-grades below, our team documented every pathway in and out of the buildings and designed a Signage System to safely evacuate the 30,000 people working in these building every day.
On September 11, 2001 our results were tested in a way we never imagined or hoped for and that day as the buildings burned, and smoke filled the stairways, the towers were successfully evacuated in less than 45 minutes. This meant everyone who could get out, did get out and were directily safely to the streets below and out of harms way. We understood the challenge and through an effective signage system we managed the fears and the panic of the crowd and showed them the way to safety. This project took over three years and is has been credited with saving thousands of lives on one of the worse days in American History.
Digital Signage System for New Jersey City Unversity
A signage system can be more than a system that directs traffic flows and identifies buildings and specific locations. According to the Washington Post writer Gwen Graham, "So far this year, more students have been killed in schools than U.S. soldiers in combat zones."
This is a national crisis that has no single solution however this signage system is designed to help.

This signage system is a combination of traditional wayfinding and digital communication that enables universities to manage traffic flow; offer streaming content such as campus news, links, and social media; and enhance security. It leverages the capabilities of online communication, coupled with affordable software and equipment, to provide greater opportunities to engage students and campus visitors interactively.